Fused Glas fusing, sculpture in glass by Daan Lemaire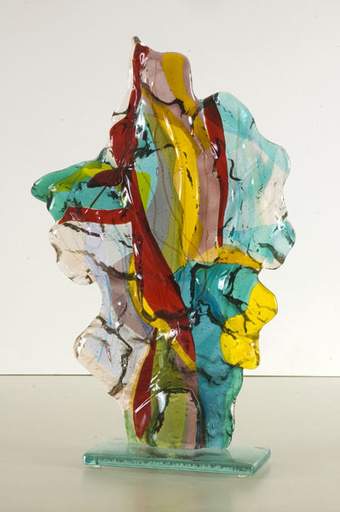 --- more of my recent abstract watercolors on paper and other abstract art of artist-collegeas from Amsterdam on: http://

www.abstract-painting.nl

---




Glas fusing - fused glass - melted glass




It is from 2004 that I work intensively with the glass fusing technique which gives me a lot of freedom in mixing the colours of the glass by melting it. So I can really 'paint' with the glass.
I mostly make glass sculptures in an own design, but also make window-panes or ceiling lights, when people ask for it, for the house or the office.

With glass fusing different coloured glass layers are melted together by heating and melting them in the oven; this is the process of the fusion of the glass. After some hours the glass becomes cold and all the seperate glass layers are changed into an one-piece-of-glass. The colours of the glass layers are now mixed in many different ways during the fusion process.

Originaly I'am a painter, so the glass fusing technique gives me just what I need: I can paint with coloured glass! Besides this technique gives me many possibilities to create lines in the glass material, so it makes me a drawer in glass too!

I enjoy it to change the flat glass layers into a spatial sculpture. I repeat the melting process several timesand it is during the last fusion in the oven that I use a background with relief, so the melted glass will take over this shape I designed beforehand. So a spatial glass sculpture comes to life, in which a lot of different kinds of reflections will be generated. This helps the colours in the glass to be mixed even stronger.

The glass fusing sculptues I make are meant to be located inside the house. Not outside, because the glass sculptue is vulnerable for strong changes in temperature.